VILLAGE GOVERNMENT

Four Candidates Vie for Two Open Seats on the Village Board of Trustees (Posted August 1, 2020)
The 2020 Village Election will take place on Tuesday, September 15. The following residents have submitted nominating petitions for the position of Village Trustee:
Anna (Tinka) Shaw - Thinka Tinka Party
Christopher Kasker - Silver Oak Leaf Party
Michael Coleman - Preserve the Park Party
John Watson - Preserve the Park Party
The election will fill two Trustee seats, which are currently held by Allen Barnett and Maureen Coen.
Voting will take place in person from 7am-9pm at the Village Hall or by absentee ballot. Those wishing to vote by absentee ballot, must complete the an application and mail to the Village Office of the Village Clerk or drop off in person. Click here for an application.
As per NYS election guidelines, electronic applications are NOT allowed. All applications must be an original. Anyone who previously e-mailed an application will be sent a new form to complete and mail in.
From The Mayor's Desk - Covid 19 Update - Mid July Recreation Guidelines (posted July 12, 2020)
Dear Neighbors,

With summer recreational activities in full swing on our lakes and other village properties, it is an excellent time to refocus on mitigating the risk of community spread. The residents have been stellar in following the guidelines to date and we should continue to do so. Recent national news and 1-newly reported case of COVID-19 in the Park (not community spread) has motivated me to reach out.

While it is a challenge at this point to continue social distancing and wearing a mask, we should resist the temptation not to.

The virus is still here.

As I mentioned, during the first three months of the stay-at-home order we did a stellar job as a community resulting in no cases of community spread. While confidence in our safety within the gates is justifiable, because we are in Phase 4, and New York City is in Phase 3, we have to be careful not to be overconfident or complacent. Residents are going back to work in New York City, there are more outside delivery vehicles and service vendors here more than ever before, guests are visiting on a much more regular basis, and we are venturing out to reopened stores and restaurants.

Across the nation, areas that are complacent and have relaxed restrictions are seeing a surge of cases. If someone contracts the virus in Tuxedo Park and we continue to gather in large, non-family groups, without following the guidelines, the number of cases will spread at an exceedingly fast pace in our tight-knit community and could have serious implications for the most vulnerable.

The Village of Tuxedo Park is affirming the Coronavirus guidelines issued by the New York State Department of Health here.

These guidelines naturally are in effect for all Village property, including Tuxedo Lake, the Little Wee Wah (Pond No. 3), Wee Wah Lake, the Race Track, the hiking trails, the Village Office, and all of our roads.

In my opinion, there is no better place than Tuxedo Park to weather this pandemic. Let's continue to act responsibly and do our part so that new cases are kept to a minimum.


Thanks,

Mayor Mac
From The Mayor's Desk (posted May 9, 2020)
Dear Neighbors,

Lately, the topics discussed among members of the Federal Government Coronavirus Task Force and by New York State Governor Andrew Cuomo have shifted from one hundred percent fighting the coronavirus to states and regions reopening.

According to available data, more people have begun to leave their homes for shopping and recreational activities, including from states with tighter lockdown regulations. Many experts conclude that the increase in traffic and new polling data indicates that there is a desire to get back to work and pent-up demand among consumers. The staged reopening of Orange County before the end of the quarter will be welcome news if it happens

There is an urgency expressed by local businesses and consumers to move on. According to the Governor, the timetable of what may open on or about May 15 will be construction and manufacturing upstate. Still, downstate would have to "change dramatically enough to make a difference" by comparison. The stages of reopening are determined by which region meets the following guidelines sooner. According to CBS News reporting on New York State for a region to reopen it must:
The Orange County NY COVID-19 Cases by Town webpage latest update lists Tuxedo at 61 cases. By my calculation, Tuxedo Town has had 49 cases, and Tuxedo Park has had 12 cases placing us last. The City of Newburgh has the most cases at 1,314.

Of the Tuxedo Park cases that I have full knowledge, Person-to-Person Transmission accounts for 10 cases (not transmitted here outside of a single-family home, fortunately) and Community Spread for 2 cases. Community spread is when someone gets the virus without any known contact with a sick person.

To honor those sick or lost, our community will continue to do its part in remaining diligent. At the same time, we are thankful for leading the County with the lowest number of cases and thankful for owning a home in Tuxedo Park.

Be safe, and stay ready.


Thanks,
Mayor MAC
Village Elections Postponed (posted May 3, 2020)
Dear Neighbors,
Gov. Andrew Cuomo signed an executive order Friday changing the dates of elections due to the coronavirus pandemic. Votes on school budgets and for board members will be held June 9 by mail-in vote, and elections for village and town seats will be held Sept. 15. For village elections, all party nominations can be done remotely by Aug, 20. The orders end uncertainty over when the elections would be held, particularly for schools that need to prepare budgets for the fiscal year that starts July 1. On Friday, Cuomo also canceled school for the remainder of the academic year. [Excerpts from the THR.]
Thanks,
Mayor MAC
Final Village Budget Approved Village Elections Postponed (posted May 1, 2020)
Dear Neighbors,

I am thrilled to inform you that the Board has successfully reduced the residents' tax burden this year by cutting expenses to below the 2% mandatory property tax cap. However, the Board was unable to reach last year's tax rate. Even so, any decrease in Village taxes is a success.

The Board often disagreed on cuts and fee increases. Nevertheless, together, we lowered taxes, and that is what matters most.

Because the primary source of our new revenue is taxes generated by new homes, large spending increases year-over-year without new dwellings is not sustainable. We need to pace our investments accordingly next year.

The final budget and tax rate will be posted on the Village Website.

Thanks,

Mayor MAC
Tuxedo Park Getting Electrical Overhaul
(Posted February 27, 2020)
From The Mayor's Desk
Posted February 2, 2020
Dear Neighbors,

We have moved the start date for Chief Dave Conklin while we wait for the completed paperwork from the Orange County Civil Service Department. This is expected to be a short delay.

Next week is our final kickoff meeting with Orange & Rockland for upgrading our electrical infrastructure with the latest technology. This is a major upgrade that will require temporary road closures and detours, but it is paid for by O&R and well worth it.

Please do not hesitate to contact members of the Board for further information.

Thanks,

Mayor MAC
Vacancy on the Village Zoning Bord of Appeals
Posted December 16, 2019
Dear Neighbors,
Do you love living in Tuxedo Park as I do? If the answer is yes please consider what you can do personally to preserve our way of life for future generations.

There is an opportunity to consider. We have one vacancy on our Board of Zoning Appeals. This board plays a key role in applicant compliance to our zoning codes, granting variances, and safeguarding our designation of the entire Village as an historic site and its listing on the National Register of Historic Places by the United States Department of the Interior.

Thanks,

Mayor MAC

Please send your resume to Village Clerk Debbie Matthews at dmatthews@tuxedopark-ny.gov
Front Gate Survey Results are In
Posted August 1, 2019
Dear Neighbors,
Today's meeting to review the results of the survey choice was rescheduled for Tuesday.
Just under half the Village responded to the survey, with approximately 188 voting for replacing the manned booth, 53 voting for the current configuration with improvements and 37 voting for a kiosk configuration. At Tuesday's meeting the Board will consider how to move forward. Thank you for your participation.

Best,
Board of Trustees
Village Surveys Its Residents on Front Gate Configuration
Posted July 18, 2019
From the Board of Trustees to all Village of Tuxedo Park Residents:
RE: Front Gate Security Configuration Survey
Dear Neighbors,

Click on the link below to take the Survey (or cut & paste in your browser).
https://www.surveymonkey.com/r/HLBKHR7
Due July 31, 2019

Background Information

The majestic, architecturally significant main entrance is the center piece of Tuxedo Park, welcoming our residents and providing all visitors with their first impression of our unique community. The Village of Tuxedo Park Board of Trustees (the "Board") firmly believes that any physical alteration to our main entrance should be done thoughtfully with careful consideration to all potential consequences, and with the input of the residents.

A well-attended open public informational session was held on Saturday morning, June 29, to provide residents an opportunity to learn about and discuss the possible alternatives being considered for the front entrance. The Board is issuing this survey to provide another means for residents to voice their opinions on the three possibilities under consideration. In addition to this Email, the survey (we used surveymonkey.com) will be mailed in hard copy along with your water bills through US mail, and separately to residents with wells through US mail. Every adult resident has one survey vote. The survey response time will close on July 31.

Options

The following is a description of the three Options you will see on the survey:

1. No Change from Today; with Gate Arm, Intercom and Landscaping Improvements

Description: Police officers will continue to work from the Keep. The listed improvements will be made in and around the former booth location.
Estimated Cost: ~ $5,000. Fully funded from a prior donation preceding this Board.
Estimated Duration of Project: 1 week
Disruption to Traffic: Minimal and will involve a detour of entrance lane to share the exit lane.
Renderings: None currently available

2. Center Island "Manned" Booth; with Gate Arm, Intercom and Landscaping Improvements

Description: Reintroduce manned booth to replace the destroyed, "old" booth. The new booth design is larger with an added structural steel frame and bulletproofing for safety. Drivers would have face-to-face contact with booth operators.
Estimated Cost: ~ $128,000 with $110,000, raised or pledged from private donations. An additional amount is available from a prior donation preceding this Board. Contingencies/cost overruns would need to be funded by the Village or by additional fundraising if they occur. The estimated cost is based on confirmed bids received.
Estimated Duration of Project: 3-months off-site and 2-weeks on-site.
Disruption to Traffic: The 2-weeks on-site are scattered during delivery, installation, and stone and HVAC work and will involve a detour of entrance lane to share the exit lane.
Renderings: http://www.tuxedopark-ny.gov/new-booth (or cut & paste in your browser)

3. Kiosk with Two-Way Audio & Visual to Replace Current Intercom System; with Gate Arm & Landscaping Improvements

Description: Install a Two-Way Audio & Visual System in a Kiosk to replace current intercom system. This would allow drivers and the police officers (who would be in the Keep) to see each other and communicate more effectively.
Estimated Cost: ~ $35,000, with some funding available from a prior donation preceding this Board. Contingencies/cost overruns would need to be funded by the Village or fundraising if they should occur. The estimated cost is not based on bespoke pricing.
Estimated Duration of Project: 1 week.
Disruption to Traffic: Minimal and may involve a detour of entrance lane to share the exit lane.
Renderings: For examples of the system in use in other locations. https://www.meridiankiosks.com/resources/success-stories/ (or cut & paste in your browser)
https://www.meridiankiosks.com/kiosks/outdoor-kiosks/ (or cut & paste in your browser)

All Options may require Police Overtime to direct traffic during detours.

Please note, the Board considered but dismissed an option to install a "manned" booth with Resident and Non-Resident Lanes as being too costly and complicated to execute.


Click on the link below to take the Survey (or cut & paste in your browser).
https://www.surveymonkey.com/r/HLBKHR7
Due July 31, 2019


Thanks,

Debbie Matthews, Village Clerk
On behalf of the Board of Trustees.
Village Election Results
Posted 6/18/19
MAYOR:
David McFadden - 85
WRITE-INS FOR MAYOR:
Alan McHugh - 23
Greg Libby - 1
Christopher Gow - 1
Sally Sonne -1
Michael Bruno -1
Maryjo Guinchard -1
TRUSTEE:
Alan McHugH - 92
Paul Gluck - 87
WRITE-INS FOR TRUSTEE:
Maryjo Guinchard -3
Peter Regna -1
Elizabeth Coitnoir - 1
C.Y. Hempel -1
Rob McQuilken - 1
Jim Hays -1
David duPont - 1
Congratulations to Mayor McFadden and Trustees McHugh & Gluck
Village Elections To Take Place on Tuesday, June 18
Village Elections will take place on Tuesday, June 18, 2019 from 7am-9pm in the Village Hall. Offices to be filled, terms thereof, and the names of the candidates are as follows:

ONE MAYOR – TWO YEAR TERM
Candidate: David C. McFadden

TWO TRUSTEES – TWO YEAR TERM
Candidate: Alan N. McHugh
Candidate: Paul Gluck

Although the election is uncontested, residents are still encouraged to come out and cast their votes.
Booth Or No Booth?
The front entrance to The Park has been a hot topic of discussion for the Board of Trustees this month, with Mayor McFadden having submitted a shovel ready, almost entirely privately funded proposal for replacing the Traffic Booth at the May 15 meeting. (Click here and here to view the proposal, which can also be viewed on the Village website or by request in the Village Office) Since that time there have been two lengthy special meetings at which the Trustees have discussed and debated various options for the entranceway while working to put together a community survey on the topic.
A Town Hall meeting, at which the various options will be presented to the public followed by a Q & A session with the Board has been scheduled for Saturday, June 29 at 9:30am. This meeting will precede distribution of the survey.
In the meantime, please take some time to review the information contained in the following BOT meeting reports:
Village Board of Trustees Meeting, May 15, 2019
Special Village Board of Trustees Meeting, May 20, 2019
Special Village Board of Trustees Meeting, May 28, 2019
(*all reports posted to BOT page in chronological Order)
As well as the report of the Village Board of Architectural Review Meeting on May 21, at which the BAR reviewed the Mayor's booth proposal.
An important decision about the Gateway to the Village lies ahead for Park residents. TPFYI encourages everyone to educate themselves and to participate in the survey when distributed.
Village & School Budget/Election Season is Here!
The Village's preliminary budget for the 2019/2020 year has been completed and posted online. A public hearing was held on April 15 and it is anticipated that the budget will be unanimously adopted at a special meeting on Tuesday, April 30 at 8am.
Residents will be pleased to learn that the budget will not exceed the tax cap.
"We are very pleased to not exceed the cap. It took a lot of hard work," Mayor McFadden commented at the April 15 BOT meeting. "Unfortunately we didn't get everything we wanted, but we'll make do."
The 2019/2020 budget can be viewed here.
Village Elections will take place on June 18 from 7am-9pm. Three seats will be opening on July 1, those of Mayor McFadden, Trustee McHugh and Trustee Gluck.
The Board of Education has also completed their preliminary budget and are expected to adopt it on Thursday, April 25. The tax-cap handed down to the District from the State this year is 4.97% but the proposed levy is well under cap at 2.8%. The budget will be made available to the public on May 7.
BOE elections will take place on May 21. Four seats will be opening on July 1 and 7 candidates will vie for them:
Mike Arone – incumbent
Dorothy Ziegelbuaer – incumbent
Dan Castricone
Lucy Scully
Joe Rickard
Sue Heywood
Alyssa Horneff
Double Duty?
At their meeting on January 15, the Village of Monroe Board of Trustees voted unanimously in favor of hiring current Village of Tuxedo Park Police Chief, Alex Melchiore, as their full-time interim Chief of Police.
(Meeting minutes can be found here)
Additionally, the Village of Monroe Police Department website is now listing Alex Melchiore as their Chief.
When asked for comment, Mayor McFadden stated via email "We are aware that the Chief is working for the Village of Monroe. The Board recognizes the potential issues of working two full-time positions and is closely monitoring and reviewing the situation."
Village of Tuxedo Park Board of Assessors Meeting Notice - Janaury 29, 2019 - 9am
Click here to view the meeting notice.
A Report on Tuxedo's Lakes
In the fall of 2011, Eurasian Water Milfoil (EWM), an invasive aquatic plant, was discovered in the northern portion of Tuxedo Lake, with highest concentrations in front of the Tuxedo Club. Susan Goodfellow and the Village Board of Trustees (BOT) quickly organized the mapping of its distribution and initiated an annual program of divers to uproot the EWM plants. In spite of these efforts, EWM has spread around Tuxedo Lake, into Pond Three and the Wee Wah. EWM spreads primarily through stem fragmentation, is difficult to control and very difficult to eradicate. Because Pond Three and Wee Wah are shallow, EWM could clog most if not all the waters of both lakes. In the deeper Tuxedo Lake, the infestation is currently spreading to waters less than 12 feet deep, around the margins of the lake and an extensive area at the lake's southern end. Thick stands of EWM pose a serious threat to the ecological health of our lakes, to their beauty and to their use for recreation. Consequently, its spread can negatively affect our property values.
In 2008, through the efforts of Susan Goodfellow, our Village joined the Citizens Statewide Lake Assessment Program (CSLAP), a New York Department of Environmental Conservation (DEC) managed program, through which measurements and observations of lake properties are taken by Village residents during the summer months and reported to DEC. DEC then processes and analyzes these data and prepares reports on the ecological health of our lakes.
The CSLAP data indicate that in recent years our lake's phosphorous and nitrogen concentrations have risen, probably contributing to blue green algae blooms, which when severe, can become toxic. Phosphorous is an essential nutrient for plant growth but has very low concentrations in natural freshwater lakes. Plant and algal growth are therefore limited by these low phosphorous concentrations. So, small increases in phosphorous can lead to exponential increases in algal growth. Soils have relatively high concentrations of phosphorous but terrestrial plants, especially trees and shrubs, use it for their growth. If trees and shrubs are removed from the lakes' margins and the banks of streams feeding the lakes, rain will wash the soil into the lakes and increase their phosphorous concentration. As a consequence of the increased concentration of algae, the water clarity of our lakes is declining. The alkalinity (pH) of our lakes' waters is generally rising as is their electrical conductivity, trends which are often due to soil erosion and road salt contamination.
To address these conditions, the BOT asked Solitude Lake Management, the Village's current lake management firm, to recommend control procedures for both EWM and algal blooms. Solitude recommended the use of a variety of chemicals to control both in all three lakes. The BOT is currently seeking a second opinion from another lake management firm, Princeton Hydro LLC. The BOT also reactivated the Village of Tuxedo Park Lakes Committee (VTPLC), which is charged with advising the Village Board on lake issues and helping them, with the assistance of a professional lake management firm, develop a long term plan to improve the ecological health of our lakes. Such a plan will establish a set of objectives, procedures to achieve those objectives and estimated costs. The success of the procedures will be evaluated and the plan reviewed and possibly revised annually by the committee and the BOT. This planning will be aided by a previous Lakes Management Plan prepared by Princeton Hydro in 2009. Unfortunately, few of the recommendations of that plan have been implemented by subsequent boards.
Although reluctant to follow Solitude's recommendations this year for Tuxedo Lake and Wee Wah, the BOT did consider the use of herbicides to control the EWM infestation in Pond 3. This recommendation was supported by a number of Pond 3 residents. The Tuxedo Park Lakes Committee was also asked for their recommendation. After considering this option, the committee recommended against it, (click here to read the committee report) not because, in their judgment, there were substantial risks to residents or the ecology of the lake but rather because there are always uncertainties as to the long-term impact of chemicals. Any use of chemicals should only be as part of a long-term strategy for the control of EWM and such a strategy has not yet been developed. As an alternative, the committee recommended an aggressive diver assisted pulling program. Nevertheless, Pond 3 was treated with an herbicide in mid-July to reduce the growth of EWM.
The Village of Tuxedo Park Lakes Committee is currently exploring ways to help the BOT increase the efficiency of the mechanical removal by pulling of EWM plants from our lakes and will explore methods to reduce the input to our lakes of nutrients (phosphorous and nitrogen) and road salt.
In the meantime, boaters should retrieve all floating plant fragments with pool skimmers that can be purchased at any swimming pool supply store. The fragments can be placed in a plastic bag and deposited in the garbage or composted. The natural fragmentation of EWM is beginning now and will reach a maximum this month. The fragments float for about two weeks then sink and will form new EWM plants if the water depth and bottom conditions are appropriate.
Any effort to substantially improve the ecological health of our lakes and reverse current trends will require a multiyear program, using procedures specifically designed for our system of lakes. This work will require a close working relationship between the TPLC and the BOT, it will involve Village employees, professionals to administer the control procedures, numerous volunteers and the cooperation of all those who use the lakes or have residences along their shores. In other words, it must be a concerted community effort.
James Hays
Chair Tuxedo Park Lakes Committee
The 5th is The New 4th in Tuxedo Park
Fireworks lit up the Tuxedo Park Sky on Thursday, July 5 in a beautiful display put on by the Tuxedo Club!
Meet the Village Trustee Candidates
Village elections will take place next Tuesday, June 19, from 7am-9pm in the Village Hall. This year there are two candidates running for two open Trustee seats. They are Allen Barnett, (Prudent Planning Party) and Maureen Coen (Namaste Party). In an effort to help the community get to know the candidates a bit better and understand where they sit on key issues, TPFYI asked both to submit brief statements. Here are there unedited responses in the order they were received:
ALLEN BARNETT:
Dear Neighbors,

It has been an honor to serve as a Village Trustee for the last year and I am pleased now to be running for a two-year term. I would like to first acknowledge the leadership of Mayor David McFadden and the dedication of my fellow Trustees McHugh, Gluck and Moon. Together we have formed an effective and cohesive Board with whom it has been a pleasure to work. Personally, I have tried to apply my experience as a former Chief Financial Officer to the governance of the Village. There are serious long term issues facing the Village. My primary focus has been and will continue to be on three areas, which I believe if addressed could improve significantly the long-term health and wellbeing of Tuxedo Park
Creating understandable and transparent Village financial statements;
Developing a long-term plan for the maintenance of Village infrastructure;
Instituting professional human resource policies.
First, the Village's financials need to be transparent and easily understood by the public. This year the Trustees' focus was ensuring that the operating budget was under control. I am pleased to report that when all of the final bills are accrued, the FY 2018 general fund will be approximately $150,000 (or 3.6%) under budget.
However, to improve the financial management of the Village as well as public oversight, our financials need to be formatted to make them easier to understand. The required New York State financial reporting for Towns and Villages produces reports that are difficult for the general public to understand, interpret, or compare on a year to year basis. This year I intend to develop summary reports that will clearly show the financial condition of the Village and propose, beginning in September, to do consistent quarterly reporting at the Board Meetings.
Second, a key issue facing the Village is the maintenance of its aging infrastructure. This year our efforts have been on addressing deferred maintenance issues in the Water Department. Deputy Mayor McHugh and I identified two areas where proper maintenance had not been performed for a number of years: the Ridge Road water tanks and the two processing filters in the Water Plant. Among other problems, we discovered that one of the plant filters had been off line for well over a year, leaving nothing in reserve. In an emergency that could have left the Village without its water supply. By the end of June, the necessary repairs will have been completed so that we have back-up systems.

I believe that the problem is that there is lack of consistent reporting on how the Village is maintaining its infrastructure. Prior efforts have been made to do long- term planning but, with two-year administrations, these efforts have too often been inconsistent.

This year I propose that we "inventory our infrastructure" and develop a comprehensive long- term plan with priorities and estimated costs for maintenance. This plan would then be reviewed at least semi-annually at public meetings. Appropriate and consistent preventative maintenance is critical to avoid expensive future fixes. I believe having an informed public is also critical; the residents of the Village need to clearly understand the problems and hold future Boards accountable in addressing them.
Third, we need to develop proper human resources practices for the management of Village employees. We have excellent and dedicated employees. However, we are lacking the basics of good human resource management. At the present time, other than the sterile Civil Service descriptions, there are no private sector style job descriptions, performance reviews, or statements of responsibility and authority. Without these, Village employees have faced inconsistent and changing expectations with the continual turn over in the Village Trustees. In the worst case, this can lead to a situation such as the recent action taken against one employee on the basis of allegations, which upon examination by the Board of Trustees, the Village's auditors, and the New York State Controller's Office were found to be unsupported.

I propose to enlist some of the Village residents who have experience in human resources to put in place for the non-union employees of the Village appropriate procedures and structure. I believe this will improve the efficiency and productivity of our employees and ensure that we can attract the best employees going forward.
While Maureen Coen and I are running unopposed, it is still important that you vote on June 19th to establish a base of support for our efforts. I sincerely request your support in person or by absentee ballot.

Please let me know if you have any questions or concerns. Thank you.


Sincerely,
Allen Barnett
Name:Maureen Coen
Education/Degrees: Juris Doctorate, MBA in Management and BA in Political Science.
Vocation/Employer: I am currently working as a Managing Director for Credit Suisse, a Swiss banking institution, with responsibility for capital and liquidity management in Credit Suisse's Asia Division. Over my 18 years at the bank, I have held numerous roles, including Treasurer of the Fixed Income Department.
Prior to my current employment, I worked as a Managing Director at Moody's Investors Service rating various types of structured transactions, and, prior to that position, I was a lawyer in a NYC law firm practicing corporate law.
I am very happy to report that I am retiring from my career on Wall Street in just a few weeks.
Years of residency in Tuxedo: I have lived in Tuxedo since 1998.
Volunteer Work in the Village of Tuxedo Park: For the past 5+ years I have served as a member of the Board of Zoning Appeals (BZA) and I am currently a Governor for The Tuxedo Club. I have also served as a member of the vestry at St. Mary's for six years and as a trustee for the Tuxedo Park School for eight years. I am currently a Director on a local development corporation for the Town of Tuxedo.
Briefly, why are you running for Village Trustee?
Having lived in Tuxedo Park for twenty years and having served on the boards of many of the institutions in this community, I know and love our special and unique Village—and there are many things to love. What I have learned over the years is that for our community to thrive we have to support and celebrate each other and build upon the great work that has been done to date in making Tuxedo Park an easy, friendly and desired place to live.

Working closely with the Town of Tuxedo to preserve, enhance and enrich our Village today and in the future is a key goal of mine.

I would be honored to serve you as your trustee with these goals at the forefront.
In addition to bringing my legal background and business experience to the Board, I am willing to listen, analyze, work hard and get things done. I strive to be a rational and open-minded advocate for the community.
What are the most important issues currently facing the Village and if elected how would you propose to address them?
Like many municipalities in our area, there are a number of serious issues that continuously have to be addressed. In our case, amongst the most pressing issues are our aging infrastructure, which is well past its useful life, and invasive plants that are rapidly spreading in our lakes and reservoir. We have to address these issues, which could be expensive, while trying to avoid increases in real estate taxes. This means we need to look for opportunities to be more efficient in our current expense base—which is where I would like to focus my attention if I were elected your trustee. Over the last several years, most people that work in banks have become very skilled at expense reduction and optimization.
Among other things, I would focus on looking for opportunities to partner on shared services and explore receiving additional State grants.

The current administration is thoughtful, works well together and is working hard to address these issues. I would be honored to serve with them.

Many thanks to the hard working people behind TPFYI that are dedicated to keeping all of us informed by providing us with unbiased information.
I hope to have your support at the election on June 19th.

Please feel free to email me at mrcoen@optonline.net with any questions you may have.
School District Seeks Community Input With Educational Consultant
The Tuxedo Union Free School District recently engaged a National educational consulting firm for the purpose of developing a long-term plan for the education of its students, with particular focus on the High School. As part of this process, the firm will be conducting community focus groups on the evenings of June 4 and June 5 at 7pm. All community members are invited and encouraged to attend and vice their opinions as collecting feedback from all stake holders is a critical part of the process.
R.S.V.P. is necessary
Click here to view the open invitation from the School District.
Two Candidates Run for Two Open Seats in Uncontested Village Election
It's election time in the Village again and this year looks to be a somewhat tame one with two candidates running uncontested for 2 open Trustee seats.
Allen Barnett, (Prudent Planning Party) and Maureen Coen (Namaste Party) have both submitted nominating petitions. One of the seats is to be vacated by Trustee John Moon while the other is currently held by Mr. Barnett, who is seeking re-election after having been appointed to serve out David McFadden's Trustee term when he was elected Mayor last June.
The Village election will take place on Tuesday, June 19 from 7am-9pm in the Village Office.
Tuxedo Park Public Safety Day
Village of Tuxedo Park Community Members,

We look forward to welcoming our residents and visitors of all ages to honor the Village of Tuxedo Park Police Department, along with the Tuxedo Park Fire Department, and the Tuxedo Volunteer Ambulance Corps. There will be police as well as fire and EMS rescue vehicles and equipment plus staff and volunteers on-hand.

The event will take place Saturday, May 26, 2018 from 11:00 AM to 2:00 PM at the St. Mary's-In-Tuxedo Episcopal Church parking lot.

The Village of Tuxedo Park Police Department has proudly served the residents of Tuxedo Park since 1886, as have the Tuxedo Park Fire Department since 1901, and the Ambulance Corps for more than 50 years. All these organizations strive to provide emergency services in partnership with the community to contribute to a safe environment with the highest quality of life for all of us. There will be limited beverages and light fare.

Mayor David McFadden

For questions pertaining to Public Safety Day please contact David McFadden at trusteedavid10987@gmail.com or (917) 576-2484.

Weather permitting.
Solitude Lake Management (SLM) presentation, By Glenn Sullivan, Certified Lake Manager "Tuxedo Lakes; Village of Tuxedo Park, April 11, 2018
Mayor David McFadden introduced Mr. Sullivan who began that he was there "to talk about lakes… about what he saw as problems". Using a powerpoint presentation, Mr. Sullivan started with a brief description of the three Village lakes' watershed covering 8.24 square miles. 2/3rds of the 8.24 square miles is feeding the Wee Wah so greater impacts from watershed are felt in that lake.
Mr. Sullivan described the SLM process:
· - Identify problem, he noted as a lake manager, he focuses "in lake" and not on the watershed. He sees the lakes' major problems are algae and Eurasian Water Milfoil (EWM). Tuxedo Park needs to address EWM and algae
· - Review data/info-CSLAP, SLM, Phydro
· - Discuss options focusing on plant and algae situation
· - Review recommendation.
In answer to Dena Steele's question of how he defined "a real blue-green algae problem" Mr. Sullivan responded that blue-green algae blooming in summer at the height of warmest weather was problematic; an every year algae bloom in the fall was normal in a deep lake like Tuxedo Lake.
A Wee Wah Lake Bathymetry map was presented. Bathymetry maps for Tuxedo Lake and Pond No. 3 are needed .
Wishing to avoid a political discussion, Mr. Sullivan noted that a warming trend encourages algae growth, and that more algae can be expected in the future. Also contributing to favorable conditions for algae growth in Tuxedo Lake is the nutrient load, "whatever that is," permanently at bottom of Tuxedo Lake .
Claudio Guazzoni asked why nearby Sterling Lake does not have blue-green algae blooms or EWM. Mr. Sullivan was not familiar with situation in Sterling Lake, noting simply that EWM has to be introduced. Many factors contribute to algae blooms.
Mr. Guazzoni questioned the impact of salt from roads on the Village lakes. Mr. Sullivan acknowledged that road salt does change lakes' chemistry and can have an impact.
He felt there might be some lawn fertilizer runoff contributing to Tuxedo Lake nutrient load, however, he suspects that most of the nutrient is "internally loaded".
Jeff Marchand asked about the impact of fish population. Mr. Sullivan described the fish as part of the food chain and explained how the fish imbalance contributes to non effective grazing of photoplankton. Photoplankton is eaten by zooplankton which in turn is eaten by small fish which in turn are eaten by larger fish. Inadequate or inappropriate fish populations contribute to algae bloom.
Susan Goodfellow asked about the impact of accumulating levels of CuSu (Copper Sulfate) on fish populations. CuSu is a heavy metal and does not biodegrade, leeching into soil. Mr. Sullivan's impression is that the little amount of CuSu used in Tuxedo Lake would not increase soil levels. CuSu could be impacting oxygen levels through the decay of biomass though he does not suspect that is happening in Tuxedo Lake.
Mr. Sullivan outlined the "problems that the Village wants to address:
· - Tuxedo Lake
- Algae blooms (the mid summer ones)
- EWM
- Phragmites
- Fishing
· - Little Wee Wah Lake (Pond No.3)
- Algae blooms (plankton and mat algae)
- EWM
· - Wee Wah Lake
- Algae blooms?
- EWM
- Swimming conditions
Mr. Sullivan repeatedly stressed "unmanaged EWM negatively affects water quality." When EWM grows to surface and is allowed to develop into mats, water movement stops, resulting in warming water, creating attractive substrata for algae growth and worsening water conditions.
Turning to a review of Citizens Statewide Lake Assessment Program (CSLAP) data, Mr. Sullivan was not aware that all three lakes were part of Tuxedo Park's CSLAP program and not just Tuxedo Lake. Presenting 2016 and some 2017 CSLAP sampling results (full 2017 results are not yet available) for Tuxedo Lake SLM's concerns are:
- Clarity—below average, particularly in July
- Total phosphorus—above average, up in July, increasing productivity
- Total nitrogen—above average, up in July
- Chlorophyll A—above average up in summer, spiking in July.
Ms. Steele pointed out that the CSLAP Results for 2016 started in July after one of the worst algae blooms that she had seen in almost thirty years of observing Tuxedo Lake had occurred the month prior. The bloom looked like blue latex paint. Both nitrogen and Chlorophyll A were above average in July, probably reflecting the earlier significant algae bloom.
None of the results addressed salinity, observed Ms. Steele, an increasing concern for promoting blue-green algae blooms. She wondered if the Village was monitoring salinity levels as research is showing alarming increases in freshwater lakes. Mr. Sullivan responded that they were not directly ,monitoring other things not included in his summary of results. Questioned about trends in salinity levels, SLM will look at 2017 CSLAP results for salinity level trends and comment later.
Mr. Guazzoni questioned the dramatic increase in phosphorus. Mr. Sullivan noted that algae growth will increase phosphorus levels. When algae dies, phosphorus levels should go down.
Presenting charts on Tuxedo Lake: secchi depth, plants perception, and temperature, years 2008-2016., Mr. Sullivan explained that trends are all going in the wrong direction: decreasing clarity, rising water temperature, and greater impairment from below and at surface plants. Bottom lake temperatures experienced a sharp increase and this could be a real concern.
Carlyn Cappella asked about when the monitoring the lakes had first begun, which Mr. Sullivan suspected started with the CSLAP effort.
Next, Mr. Sullivan presented maps of plants in Tuxedo Lake and the maps from 2011 and 2017 showing the spread of EWM. He described the methodology using a weed rake at 140 sites to understanding lake plant communities. Tuxedo Lake has native water celery, excellent for wildlife, southern naiad, and bass weed, best fish habitat. Tuxedo Lake does not have a lot of native plant coverage in littoral zone (where sunlight still reaches lake bottom). The continued spread of EWM could crowd out what modest native plant distribution is existing in Tuxedo Lake.
Mr. Guazzoni asked about planting native plants and Mr. Sullivan responded that only eelweed has been successful.
Highest density of EWM is at the dam and south end of lake, David McFadden asked why. The flow of lake water towards dam and high organic material at south end of lake might explain high densities. Mr. McFadden asked if other lakes were infested with Tuxedo Lake EWM fragments, flowing into Pond No. 3 and Wee Wah. Mr. Sullivan answered, "Sure."
He warned of the continued spread of EWM around the whole lake through annual natural ragmentation, but not knowing exactly the littoral zone of Tuxedo Lake he could not be sure of how bad it could be.
Length of EWM plants depends on clarity so in Tuxedo Lake could grow to 15-20', creating its own advantage by clarifying the water
Mr. Sullivan did not elucidate about the impact of road salt. Chiu Yin Hempel asked the impact of erosion along shoreline and why some areas were more receptive to EWM. Mr. Sullivan felt organic material accumulating at the south end of the lake and littoral zone would contribute to a favorable EWM habitat. He has not looked at the shoreline.
Mr. Sullivan reviewed three methods of plant control:
· - Physical
- Mechanical Harvesting
- Hydro-raking
- Suction/hand harvesting
- Benthic barriers, low tech approach, cost prohibitive $20,000 to cover an acre, will "sediment" over if not maintain properly, nothing grows underneath, best for personal dock area.
Mr. Sullivan explained that "harvesting" spreads Milfoil through creation of fragments, so most physical methods were not recommended especially if the infested area is greater then five acres. Mr. Sullivan dismissed the DASH methodology of harvesting which focuses on capturing fragments through not hand feeding the plant into the vacuum and triple filtering the water.
Ms. Steele questioned the SLM's opinion of harvesting reading from a Paul Smith College study, "Cost and Effectiveness of Hand Harvesting to Control the EWM Population in Upper Saranac Lake, NY:
"Results indicate that hand harvesting is a viable management technique for achieving whole-lake control of Eurasion watermilfoil; …" "…Hand harvesting has been used successfully in Lake George…"
Ms. Steele pointed out that the people working on Upper Saranac Lake had found hand harvesting to be so effective in getting on top of the EWM that they are using it now in Fish Creek. She did not understand Mr. Sullivan's opinion. He suggested she ask how much of Lake George was being managed and who was paying for it. He further suggested that the government was paying for it and not homeowners in most cases. He estimated a cost of $5,000 to $10,000 an acre and looking at Tuxedo Lake's map, he did not think hand/suction harvesting was an acceptable management tool. Tuxedo Park has already spent $184,000 on EWM removal which "did not get us anywhere". Ms. Steele suggested that perhaps the Village had not been aggressive and dedicated in its harvesting approach. Upper Saranac Lake had an aggressive three year plan, raising money through a foundation to achieve an acceptable level of EWM that could be maintained by continued hand harvesting at a reasonable cost (now at $90 an acre). Upper Saranac Lake recognized that the best that could be hoped for was achieving an acceptable maintenance level since EWM could never be fully eliminated once introduced, maintaining for perpetuity unless chemicals are applied every year. Mr. Sullivan said Ms. Steele should look into the details to see what he was talking about to which she responded she had already looked into the details.
Mrs. Goodfellow questioned how the Village had applied the funds used in the harvesting effort, whether there had been a consistent program in place and how effectively was it implemented. Mr. Sullivan did not respond.
· - Biological
- Grass carp, eat milfoil after eating natives and not easily approved by NYS DEC except for small ponds
- Herbivores, insects which feed on EWM, sometimes suppress EWM, not a reliable management tool
- Chemical
- Herbicides
- Algaecides
When asked about intentionally drawing down the lake to dry and freeze plants, Mr. Sullivan responded that to have any success of delaying growth and suppressing EWM six weeks of contentious freezing temperatures are needed. Unfortunately, there is no guarantee of the necessary prolonged cold to freeze the lake bottom and kill the plants. EWM roots are in the top two- three inches of lake bottom.
Jim Hays asked how one could tell if EWM had been killed and Mr. Sullivan thought that one could dig up and check, but he was not sure. He has seen delays in EWM sprouting in spring after an intentional drawdown but never an elimination. Shoreline ecology is negatively impacted by drawdown.
Asked about torching exposed weeds, Mr. Sullivan did not know results and guessed the NYS DEC would not approve burning . Ellen Gluck asked about weeding EWM out of lake after a drawdown. Mr. Sullivan thought this could be done with a huge effort because of the thousands of individual plants. Mr. Libby asked whether the Village was going to monitor the Wee Wah after the recent drawdown. Mr. Sullivan agreed that the current level of the Wee Wah provides a test case and should be surveyed.
Mr. Sullivan queried cost of hand harvesting but gave no comparison of alternative methods costs for five-ten years of management.
Greg Libby asked about growth cycle and wondered whether EWM was growing now. Mr. Sullivan responded that it was and that one could see the EWM plant dormant but not dead even under ice.
Mr. Sullivan reviewed timing and negatives of using herbicides for plant control:
· Timing
- best in Spring, early summer
- Uptake highest during growth
- Less biomass decay
- More available dissolved oxygen, colder water temperatures hold more oxygen
· - Negatives—ecological and lake use
- Plant decay uses oxygen—SLM test first
- Less plants = more algae-sometimes in eutrophic lakes (Tuxedo Lake is trending to a eutrophic state though not enough of a nutrient load to shift)
- Plant removal changes where the fish can be found
- Herbicides have irrigation restrictions
- NYSDEC Region 3 restricts swimming for a day
- NYSDEC has obstructive permit requirements
- NYSDEC requires notices based on dilution (downstream impacts)
Mr. Hays asked whether these herbicides biodegrade and what is their lifetime. They do biodegrade and their half lives vary from a week to three months. Mrs. Goodfellow asked if the herbicides can sink to bottom or get flushed out.The answer was that some flows out, but a majority stays in lake and is absorbed by plants. Some will fall to bottom and decompose. Herbicides have different breakdowns.
Mr. Sullivan was confident of the efforts of the NYS DEC to review all herbicides after EPA approval, and while not prepared to guarantee the water quality after treatment felt the Village should rely on the expertise and diligence of the NYS DEC.
Mr. Sullivan presented herbicides for plant control:
· - Sonar, can use in drinking water reservoir, says so on label, a common product for EWM, last for two to three years, breaks down plants ability to protect itself from sunlight, slow process
· - Aquathol K, needs to be 1200' from drinking water intake
· - Navigate
· - Rodeo
· - Renovate, and Navigate make plant "outgrow its food", selective to broadleaf plants
· - Komeen/Nautique, Cu based, good for six weeks
· - ProcellaCOR EC, newest, registered in most states, not NY, lowest toxicity , very selective in killing plants, will stay where you put it.
"All of the above are used in NY lakes with permits. All of the above can be used in potable water reservoirs."
Asked about spraying plants after a drawdown of lake, Mr. Sullivan said this would not be effective as plants would not be active and absorbing the herbicides when they were not under water.
Christopher Gow asked what Croton Reservoir was using for hydrilla infestation. SONAR was expected to be used.
Dolores Marchand asked about Rodeo and Renovate and the troubling discoveries after years of related Roundup use. How long have these products been studied? SONAR has been used since 1983 and application rates have been decreased. All these herbicides have to have an Environmental Impact Statement (EIS) which the public can read. Mr. Sullivan indicated that Rodeo does not have the hard surfactants that make Roundup dangerous in water.
Mr. Guazzoni asked about water filters removing chemicals and application of herbicide. Activated carbon filters are usually needed to remove for most chemicals. Liquid herbicides are sprayed on surfaces or injected into water through drop hoses. Granular herbicides are distributed by a spreader. He does not recommend night application or application on a windy day.
Mr. Libby asked about tenting which Mr. Sullivan felt was effective in small areas.
Mrs. Hempel asked about effectiveness of herbicides: will the EWM come back?
Mr. Sullivan rhetorically asked if herbicides were a silver bullet. "No," he said, " too many variables for a silver bullet to exist." Most lakes who manage EWM do so over time:
· - Year one-apply SONAR, EWM gone
· - Year two-still gone
· - Year three-starts to come back
· - Year fourth-retreat with SONAR
Mr. Hays asked if maintenance can be done by pulling. Areas with circulation will experience faster regrowth. Some clients do try to reach a level where hand harvest is adequate. Herbicide treatment does require follow-up.
Mr. Sullivan does believe that herbicide use had better control days results then other methods, i.e., one day of application "have control of invasive".
Mr. Sullivan reviewed algae control methods:
· - Algaecides
- Copper sulfate (no permit)
- Earthtec (no permit) more expensive then Cu based algaecides
- Other copper algaecide
- SeClear algaecide, binds with phosphorus and sinks to bottom, probable ALUM sulfate and does not release
- Greenclean algaecide, peroxide based, preventative proactive algaecide, weekly application suggested, need permit, 10x more expensive then CuSu
- Sonic solutions
· - Aeration, both below surface for deeper bodies of water and above for small shallow ponds (3 to 6'), lack of oxygen at bottom of lake encourages release of nutrients promoting algae growth
· - Nutrient Inactivation, use of Alumium sulfate
· - Biomanipulation
Mrs. Goodfellow asked about the NYS DEC rationale for requiring CuSu sediment sampling. Mr. Sullivan said NYS DEC responded to one employee expressing concerns about the build up of Cu in sediment. Plus research ,though not in NY , is showing higher Cu in sediment which can effect microvertebrates and zooplankton.
Mrs. Goodfellow asked about SeClear, which has not been forthcoming about their formulations and also about other herbicides. Mr. Sullivan responded that one would always know the active ingredient but EIS is based only on formulation.
Mrs. Hempel asked about the EIS (Environmental Impact Statement) process after Mr. Sullivan suggested reading for comfort on impact of different herbicides. He said an EIS was a large body of evidence, a lot of EIS are done by Washington University.
Mr. Sullivan, without a bathmthymetry map showing the exact contours of Tuxedo Lake, was unsure of EWM infestation (15 acres or not) or size of littoral zone (could be 50 acres).
Mr. Libby asked about cost per acre of herbicide application. SONAR (and all herbicides) pricings can range from $250 to $1500 an acre depending on the individual project.
SONAR does not have drinking water restrictions. Navigate has a weeklong restriction.
Mr. Hays asked about the relationship of development around lakes and algae blooms. Vacationing in the Adirondacks for a lifetime he has not seen an algae blooms in the Adirondacks. He acknowledged that trees are everywhere, no lawns, and forested shorefronts are required by the Adirondack Park Agency. Doesn't algae have to be related to development? Mr. Sullivan acknowledged development is a factor. At the recent Governor Cuomo launch of the Harmful Algae Bloom initiative, episodic events (an example is rain water funneled into a storm water system that picks up chemicals from roads, yards, roofs and empties into waterbodies instead of being absorbed into a forest floor or slowed down and absorbed by long grasses) were recognized as becoming more common and having a greater impact. Development increases those episodic events. Speaking only to the low density of housing in Tuxedo Park but not how the handling of stormwater was changed, Mr. Sullivan suggested that the Park's low housing density is a big plus.
Ms. Steele said if the Park were to be created today, Tuxedo Lake would not have houses around it with increasingly more lawns running down to the lake but rather a chain link fence with a large vegetative buffer surrounding it. Tuxedo Park's accessible reservoir is unusual and is one reason why the Village is so protective of its lakes. "We, the residents of Tuxedo Park, are protecting the lakes, not the NYS DEC."
Ms. Steele also asked about the cost of the Wee Wah aeration, initial and maintenance. (See below for answer.)
Nutrient inactivatio is the addition of aluminum sulfate to bind with phosphorus,stopping release into water body.
Ms. Steele asked about the chemistry of the Village lakes, existing and with the addition of more chemicals through herbicides. How do they know what is going on chemically in the lakes now (road salt, goose poop, etc), how do they know how these new chemicals (herbicides) will impact the chemistry and how do they monitor? Mr. Sullivan stated that the Village water department is watching now, testing, He has seen reports that show a process to take the harmful things out of the water before they reach the residents. CSLAP is looking as well. Ms. Steele expressed her concerns that a lot was going on chemically in the lakes and that perhaps they are not fully aware of: studies showing increasing salinity in freshwater bodies, Princeton Hydro at a recent PRISM workshop noting that CuSu treatments could actually be encouraging blue-green algae. She continued that the Village's drinking water reservoir does not have the normal protections (vegetative buffers, chain link fences, etc) so the community has to be more protective. Mr. Sullivan responded that he could only make recommendations but he could not make the Village manage the lake. If the Village decides to let the lake go… Ms. Steele said she was not proposing that at all. She does not want to see decisions made without a full understanding of the nature of the lake. Mr. Sullivan feels that the Village has a pretty good picture. He thinks that the (2009) Princeton-Hydro report was pretty thorough and provided a good overview of the situation. One of his recommendations is to continue CSLAP, which he feels is a very valuable tool.
Mr. Libby reviewed the usually budget driven fish stocking, which has been occurring since the Park's creation, and wondered whether the Village had been doing it wrong. He asked if the Village should be directly harvesting the herring. Mr. Sullivan acknowledged that he is not a fishery biologist and believes stocking trout makes sense in keeping herring population down. He did not know if harvesting would be beneficial, not having a fishery survey to go on. In years past, fishery studies had been recommended. The Village could hire SLM to do a fish study or the Village could just monitor and consciously document what the fishing community is catching. The information would be valuable. He could not say whether harvesting herring or stocking trout was better. Nevertheless, he is suggesting that the Village stock trout for another year.
Ms. Steele pointed out that when asked about biomanipulation (specifically stocking of Tuxedo Lake and the effects ) in April of 2014, Chris Doyle of Allied Biological (a predecessor company of SLM) recommended that before undertaking any sort of biomanipulation, the Village should conduct more studies, especially a fish study. Also, at the same time, the NYS DEC wrote in reference to blue-green algae blooms in Tuxedo Lake " Theoretically, it is possible that an ecological link between the fish populations in the lake and the algae blooms MAY exist". Ms. Steele queried about the benefit of a fish study before more money was spent on stocking the lake. Mrs. Goodfellow also felt a better understanding of the fish population would make subsequent actions of the Village more effective.
2018 Plans/ Mr. Sullivan's recommendation:
Tuxedo Lake
· - Make suction harvesting very targeted, to save money for a better method next year.
· - Continued use of Algaecide CuSu of control algae- based on low cost, no permit needed in drinking water reservoir,. Would rather the Village use SeClear but more expensive
· Regularly monitor phytoplankton June to September at least every other week, not waiting until DPW becomes concerned and sends sample to SLM, samples would cost $150 and would evaluate the likelihood of an algae bloom.
· - Survey/map plants at end of season and be prepared for action in 2019
Mrs. Gluck asked about managing phragmites, sooner as opposed to later. Mr. Sullivan stated that phragmites would only increase 10-20% in a year and he did not want to overwhelm the community with another herbicide application. Mrs. Gluck suggested plastic tarp covering phragmites. Mr. Sullivan said cutting down, removing biomass and covering would treat for a season but he would not promise eradication.
Mr. Guazzoni asked what experience SLM had with artificial lakes. 95% of SLM clients are manmade.
Pond No, 3
· - Herbicide with Navigate (granular 2, 4-D) to control EWM in half of the surface area (5-6 acres) as a "test case" so the community could become comfortable with use of herbicides. Navigate will not harm native plant. From what he saw last year a couple of times , the pond needs EWM control.
· - Apply Algaecid eCutrine Plus (liquid chelated copper to control filamentous algae)
· - Permits from DEC before an application (permit has been applied for. NYS DEC contacting residents on or near Pond No. 3) to allow flexibility in proceeding.
· - Survey lake before and after EWM treatment. Expect results in 6 to 8 weeks.
Mr. Sullivan feels that the Village should have a "no surprise" herbicide experience. No better way to manage EWM.
There will be no need to notify folks downstream as the area to be treated is less then 7 acres. 7 acres or more of treatment would require downstream notification. Mr. Sullivan deliberately structured his recommendation to avoid additional notifications. Tuxedo Park lakes are part of the Ramapo River watershed.
When asked by Ms. Steele about EWM fragments continuing to enter and re-infesting Pond No. 3, Mr. Sullivan suggested incoming water from Tuxedo Lake should be filtered to catch fragments.
Audrey Perry asked about the absence of pine trees along Tuxedo Lake which in former years dropped a carpet of pine needles in lake not leaves, wondering whether the Village should take down deciduous trees. Mr. Sullivan said it would be worse as the trees provide cooling shade in the shallowest part of the lake. He is not sure if the Village needs more trees.
Wee Wah Lake
· - Survey lake to assess plant growth and impact of drawdown
· - Village should monitor algae growth by observations and pass on to SLM
· - Install aeration a beach area, one compressor and 3 diffusers, $7,000 to install $500 to 1,000 annual maintenance and plus electricity
· - Plan to control for 2019
Long-term Strategy for EWM & HABs (harmful algae blooms)
EWM control
· - Use systemic herbicides purposefully for 2 years. Mr. Sullivan emphasized the need to be more aggressive upfront and suggested three years of herbicide treatmentfor best results.
· - Encourage native plants—bass weed, eelgrass
· - DO NOT harvest plants or lower lake annually (creates a different lake eco system and weather unreliable)
HAB control
· - Nutrient reduction actions
· - Increase community education/awareness
· - Increase plankton monitoring
· - Treat pro-actively (Earthtec, SeClear)
· - Maintain water treatment facility
· - Manage fisheries
Referencing the use of suction and hand harvesting in the Adirondacks, Mr. Sullivan suggested that the lake associations were not spending their own money and physical harvesting created jobs in the Adirondacks. He mentioned the use of herbicides as opposed to hand harvesting in Minerva Lake.
Mrs. Goodfellow asked why Adirondacks continues to use harvesting methods and relevant current research. Mr. Sullivan responded that he is not a research person but has years of experience on which to base his decision. Mr. Sullivan is confident that the herbicides are well tested by EPA providing a level of confidence. Nancy Hays asked, "if this was the old EPA or the new EPA?"
He feels there is not enough financial incentive for herbicide companies to cheat with aquatic plant herbicides.
.Mrs. Hempel recommended SLM walk around lake to see shoreline vegetation and stressed the need for a plan, specifically a three year plan addressing preventative measures not just treating symptoms. Mr. Sullivan responded that prevention is too late for EWM, but there are prevention methods for algae.
Ms. Steele who recently spoke to a town council person, David Labar, in Minerva, read from her notes of the conversation,
" starting in 2016, Minerva hired Aqualogic to DASH harvest (EWM) and it was a 'game changer'…tackling the most dense areas, feeder beds…By 2020 they hope to be in a maintenance mode.." Mr. Sullivan asked about cost which was a $1,000 a day.
SLM highlights steps in Princeton Hydro 2009 Lakes Management Plan
Tuxedo Lake
· - Phytoplankton/Zooplankton monitoring
· - Fishery survey
· - Educational information for residents
Pond No. 3
· - Bathymetric survey
· - Stormwater retrofits, Mr. Sullivan observed that the Village should annually clean retrofits for maximum protection of lakes, otherwise a waste of original investment
Wee Wah Lake
· - Treat with Greenclean Pro, as needed
· -InsItall beach aeration
· - Conduct bathymetric survey-done
· - Address stormwater mgmt. at DPW yard
· - Install salt storage facility
Watershed
· - Streambank buffers Mr. Sullivan's opinion of the good condition of the buffers was corrected; according to audience, the buffers are actually in poor condition
· - Phosphorus free fertilizer ordinance -already done by Village
· - Education on Canada geese
Mr. Hays asked about vegetative buffers along lake which Mr. Sullivan thought was a good idea. Lawns to the water are generally bad. Some type of buffer is an absolute benefit.
Diane Larsen asked about application of lime on lawns to deter geese. Mr. Sullivan did not know about lime. He is familiar with a grape based substance which if consistently applied discourages geese who do not like taste.
Comparables
Mr. Sullivan presented summaries of three comparables, two residential communities and one corporate headquarter. None of the lakes were drinking water reservoirs, but all were manmade. At the corporate headquarters, a 6-10 foot shoreline aquascaping has proved effective in deterring geese. He will provide photographs.
Comparable: Borough of Scenic Lakes and Distinctive homes" (Borough Mountain Lakes) has weekly monitoring April through September of multiple lakes, ranging in size from half an acre to 80 acres and three dates in summer to test water quality and phytoplankton. The other residential comp, "Community of Forested Lakes" had monthly lake surveys and summer biweekly phytoplankton testing in all five lakes and have been controlling EWM, other weeds and algae for 25 years. Both residential comps had storm-water management activities including redirecting storm-water away from main lake.
There were no reservoir comparables as any SLM reservoir clients are only treating algae not EWM.
Mr. Libby asked if SONAR were to be used on Tuxedo Lake should the Village recommend bypassing the lake for water during application process. Mr. Sullivan responded that If SONAR were to be used, he would be completely comfortable using the water supply. If the Village were using Aquathol K there would have to be drinking water restrictions. Mrs. Goodfellow asked if he was so comfortable with SONAR, would SLM guarantee our reservoir water quality and resident health?
Mr. Gow asked about preventing new invasives from coming in lakes. Mr. Sullivan felt that not having a public boat launch and the Park steam cleaning were effective preventative methods. No other private lake requires steam cleaning. Perhaps signage at the boat launch would be helpful. The Village could also inspect once a year for invasives. SLM would charge $4,000 for this service, or the Village could do it themselves. Educating residents on identity of invasives is also very important.
Post treatment of chemical requires vigilance of root crowns and further treatments.
Mr. Sullivan is more concerned about unpredictable biologicals then well studied herbicides.
Boaters pulling out fragments found in lakes will be helpful in reducing infestation.
Village has been reactionary in treating algae and EWM is not part of a managed plan.
Ms. Steele asked what is the benefit of only doing half of Pond No. 3? Mr. Sullivan wants to see impact before treating the whole lake.
Mrs. Hempel asked for a three year strategic plan with variables, likely commitments, the preventative and so on, so far. Mr.Sullivan suggested that the Village start following Princeton Hydro plan. Mrs. Hempel highly recommends that Mr. Sullivan walk around the lakes to understand impact of topography. SLM is working on a longer-term plan but still has variable the Village does not understand. She stressed the need for a better vision. Mrs. Goodfellow feels the long-term plan should acknowledge current research especially as there is no guarantee being given by any one about the long term health of the lakes.
When asked about filtering water flowing into the lakes, Mr. Sullivan suggested an ordinance maintaining a six-foot buffer. Members of the audience suggested much wider.
Mr. Hays noted that the method Mr. Sullivan was recommending of multiple years of herbicide applications has not been done very often. Mr. Sullivan agreed but feels that his proposed method is likely to have better results.
Join The Wee Wah Fishing Club!
The Wee Wah Fishing Club is now accepting applications for new members. Members use club boats to fish for trout, smallmouth and largemouth bass, yellow perch, walleye, catfish, and more on the quiet, stocked waters of beautiful Wee Wah Lake in Tuxedo Park.
Applicants must be residents of the Hamlet of Tuxedo or the Village of Tuxedo Park. Village employees and active members of the Tuxedo Ambulance Corp. and volunteer fire departments are also eligible. To apply, send a letter to Wee Wah Fishing Club; PO Box 158; Tuxedo, NY 10987. For more information, contact Jack Haubert at 915-3089 or jackhaubert@hotmail.com.
Village Board of Assessment To Meet March 15 For Executive Session
Click here to view the meeting notice.
2018 Tentative Village Assessment Roll Posted to the Village Website
The 2018 Tentative Village Assessment Roll has been posted on the Village Website. Click here to view.
Tuxedo Park To Be Featured on PBS in January 2018
Important Drinking Water Notice December 27,2017
Posted 12-27-17
BOIL YOUR WATER BEFORE USING
Bring tap water to a rolling boil, boil for one minute, and cool before using. Or use bottled water certified for sale by the New York State Department of Health. Boiled or bottled water should be used for drinking, making ice, washing dishes, brushing teeth, and preparing food until further notice.
This Boil Water Notice applies to Town of Tuxedo (Hamlet) North to Hickory Hollow Nursery
What Happened?
At about 10:00-PM on Wednesday, December 27, 2017 work will begin to replace a water valve in the system. This work may cause disruption in water service and/or a loss of water pressure. When water mains lose pressure it increases the chance that untreated water and harm l microbes can enter your water.
Harmful microbes in drinking water can cause diarrhea, cramps, nausea, headaches, or other symptoms and may pose a special health risk for infants, some elderly, and people with severely compromised immune systems. But these symptoms are not just caused by microbes in drinking water. you experience any of these symptoms and they persist, you should seek medical advice.
What is being done?
Replacement of the valve is necessary maintenance we must per on the system. We will work to replace the valve as quickly as possible. Beginning on 12/27/17 at 10:00 PM you must boil the water until further notice.
It is likely that you will need to boil water for the next few days until the problem is fixed and confirmation samples are collected to con the absence of bacteria. You will be informed when tests show that you no longer need to boil your water.
For more information, please contact:
Tuxedo Park Water Department at 845-351-2777 or the Orange County Department of Health at 845-291-2331.


Please share this information with other people who drink this water, especially anyone who may not get this notice directly or example, people in apartments, nursing homes, schools, and businesses.

IMPORTANT INFO ATION ABOUT BOUT YOUR DRINKING WATER.
The Village of Tuxedo Park Did Not Meet Treatment Requirements
Our water system recently violated a drinking water requirement. Although this situation is not an emergency, and does not require that you take immediate action, as our customers, you have a right to know what happened, what you should do, and what we are doing to correct this situation.
As part of our Disinfection By-Products Rule, we routinely monitor for removal of Total Organic Carbon (TOC) in our filters. The running annual average of test results ending in the month of September 2017 showed removal levels of TOC at .97 (a removal of 1.0 is required).
What does this mean?
This is not an emergency. If it had been an emergency, you would have been notified immediately. Total Organic Carbon OC) has no health effects. However TOC provides a medium for the formation of
disinfection byproducts. ese byproducts include Total Trihalomethanes (TTHMs) and Haloacetic acids ( 5s). Drin ng water containing these byproducts in excess of the Maximum Contaminant Level (MCL) m lead to adverse health effects, liver or kidney problems or nervous system effects, or m lead to an increased risk of getting cancer
Our water system also monitors for TTHMs and HAA5s. Our testing for TTHMs and HAA5s did not show the presence TTHMs and HAA5s that approached the standards for maximum Contaminant Levels.
What should I do?
There is nothing you need to do. You do not need to boil your water or take other corrective actions.
However, if you have specific health concerns, consult your doctor. .
If you have a severely compromised immune system, have an infant, are pregnant, or are elderly, you may be at increased risk and should seek advice om your health care providers.
What happened? What was done?
Compliance is based on a Running Annual Average. Although the average is below what is allowed, history has shown adequate TOC removal. We are reviewing our sampling procedures and evaluating our Filtration system for efficiency. We are continuing to monitor TTHMss and HAA5s.
For more information, please contact the Village of Tuxedo Park at 845-351-4745 or by mail at PO Box31, 80 Lorillard Road,,Tuxedo Park, NY 10987.

Please share this information with other people who drink this water, especially anyone who may not get this notice directly or example, people in apartments, nursing homes, schools, and businesses.
TPFYI Community Survey
Posted 12-28-17
De

ar Neighbor,

TPFYI has reached an important crossroads and we are looking to chart our course for the future, both in terms of economic viability as well as overall value within the community. If you would kindly take a moment to complete the following, short survey, we would greatly appreciate it.




Click HERE to take the Survey




Thank you in advance for your time.




Sincerely,

The Team at TPFYI
Please help me spread this news!
Important Water Notice
Posted 12/15/17
Click here to view notice
Village BZA Seeks Two New Members
The Village has two immediate openings on the BZA due to members both moving outside the Village and exceeding their term limits. Terms are 5-years. If you or anyone you know would like to give back to the community by serving on the BZA please contact Debbie Matthews at

(845) 351- 4745, Ext. 4

Thank you.

Board of Trustees
Tuxedo Park To Be Featured on PBS in January 2018
Wee Wah Dam Progress Depicted in Photo logs on Village Website
Posted 11-29-17
The Village has posted photo-logs depicting the progress on the Wee Wah Dam to their website.
Click here to check it out!
From The Mayor's Desk - Halloween In The Village
Posted 10-23-17
From the Mayor's Desk
Halloween in Tuxedo Park is one of our best traditions. The residents on Clubhouse Road, Tower Hill Road, and the surrounding area have hosted our trick or treaters for years. Halloween would not be possible without their generosity and commitment to the community.
This year, Halloween falls on a weekday which means that many of the children who have weekend homes will not experience our great tradition. Therefore, this year the Village will oversee two Halloweens – Saturday and Tuesday. Of course, some of our usual hosts will not be able to provide tricks or treats on both evenings. However, we have been told that there will be enough hosts participating each evening to make it fun for all.
The Village Police block off traffic to Clubhouse Road and keep our trick or treaters safe. They will do so Saturday and Tuesday. We have commitments from parents to kindly and gratefully cover 100% of the cost if there is overtime associated with adding this extra shift. If this experiment is successful it may become a tradition. We will leave that decision up to you and future Village Boards. There are several other fun Halloween events taking place Saturday in the Park and Town. Why not attend as many possible. I don't think your kids will mind filling up their candy bags to the brim! Thank you and have a great Tuxedo Park Halloween experience this year.
Mac
Please help me spread this news!
Tuxedo Lake Update
Posted 8-4-17
Based on Solitude Lake Management's Algae Bloom Analysis the Village will be treating the lake as soon as they receive DEC approval.
Tuxedo Lake Algae Bloom
Posted 8-2-17
From the Village website 8/1/17:
There is an algae bloom in the main lake. Samples taken yesterday have been sent to our lake manager Solitude Lake Management for analysis. We expect a report shortly detailing the steps necessary to remediate the algae bloom. This is typically done with copper sulfate disbursement into the lake. The algae bloom does not threaten the quality of drinking water now.
Wee Wah Dam Rehabilitation Project Report July 2017
Posted 8-2-17
Click Below to Read Full Report
SENATOR BONACIC VISITS TUXEDO PARK NATURE PRESERVE
Posted 10-26-16
(Middletown, NY)- State Senator John J. Bonacic (R/C/I) visited the Tuxedo Park Nature Preserve yesterday, where he received a tour and update on the progress being made. Restoration of nature preserve was a multi-year project funded entirely by private donations and government grants. When fully complete, the preserve will be an expansive meadow of colorful native flowers and grasses, surrounded by a healthy forest and featuring meandering footpaths that will offer all-season enjoyment and educational opportunities, and will be greatly beneficial to the ecological health of the Village.
Senator Bonacic tours the Tuxedo Park Nature Preserve with (L-R), Tuxedo Park Mayor Mary Jo Guinchard, and Tuxedo Park resident Chiu-Yin Hempel.
Race Track Nature Preserve Dedication Ceremony October 23, 2016
Posted 10-24-16
Sunday's Race Track Nature Preserve dedication ceremony was a lovely event, enjoyed by all who attended. Thank you to the Tree Advisory Board, the Deviners, the Tuxedo Park Garden Club, and the DPW for all of your hard work!
To learn more about this exciting, multi-year project, be sure to visit the Tree Advisory Board's website: http://www.tptreeboard.org/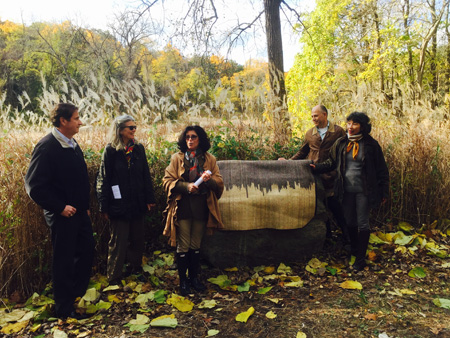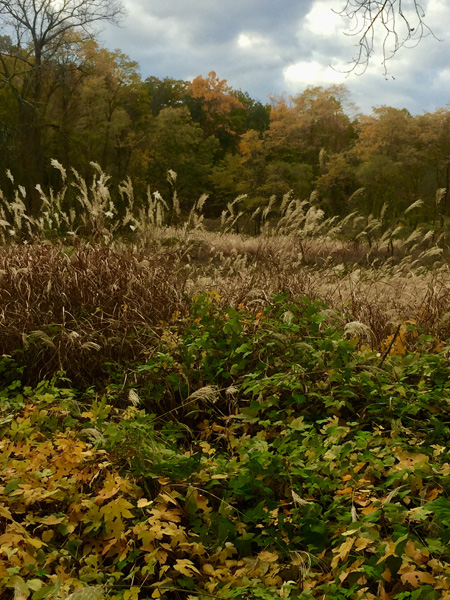 Thank You To The Tuxedo Park Garden Club
Posted 10/11/16
THANK YOU to the Tuxedo Park Garden Club for all of your efforts in making the community look beautiful this fall!
Boating Restrictions Tuxedo Reservoir
Posted 6-10-16
Click Here to view.
What's Happening At The Gate
Posted 6-3-16
On April 26, 2016 the Village Board of Trustees voted in favor of changing the qualifications of the gate guards so that the positions would be filled by armed law enforcement officers while simultaneously abolishing the position of Traffic Guard "as the Village has always known it" effective May 31.
Safety concerns seem to be the motivating factor behind this decision however, the Village also stands to save some money in salary and health insurance costs by making the change over to part-time officers.
On May 26 the Trustees held a special meeting for the purpose of considering extending the effective date for the abolition of Village Traffic Guard positions by up to 60 days. At the conclusion of this meeting, no such resolution was made.
As of June 1, the Village has not hired any new part-time officers to replace the Traffic Guards that they dismissed last month.
So who is manning the Gate you might ask???
The answer is……the one officer on duty.
Because this job requires the officer to remain in The Keep, there have been limited police patrols throughout the Village since June 1. Calls are either being forwarded to the Town of Tuxedo Police or response is delayed while the patrolling officer waits for reinforcement at The Gate.
Stay tuned to TPFYI for more information on this situation as it becomes available.
Village Surveys Residents Regarding Front Entrance
Posted 4-12-16
In your most recent mailing from the Village (this week) along with your water bill, you will find the survey pictured below, which concerns the future of the Front Gate. It is not easy to find….it is on top of the back-side of the Mayor's Newsletter and the print is small. It is CRUCIAL that as many residents as possible complete this survey and submit it to the Village. Currently, the thinking is that they will not be replacing the booth with a manned booth, but rather an empty one…while the guards will remain in the Keep as they are now. The reasoning behind this is safety and security. It is feared that if there were to be a shooting incident, a guard in the booth would not be able to adequately protect themselves from imminent danger.
Regardless of your view, please take the time to seek out this survey and complete it. The Board needs to have an accurate idea as to how the majority of residents feel before making these important decisions which truly go to the heart of this community.
WHAT'S UP WITH ALL THE ACORNS THIS YEAR?
Posted 10-19-15
Click here to read article
PILGRIM PIPELINE REP TO SPEAK AT MONDAY'S VILLAGE BOARD MEETING
Posted 9-28-15
At this Monday's Village meeting a consultant for Pilgrim Pipeline, John Cassellini , will be making a presentation during Public Comments.
It will be our first opportunity to hear from a representative of Pilgrim as to their plans for the pipeline and the potential impact to our Village and the Town.
We need to demonstrate our community resolve to not have the pipeline directly in our Village and Town. Please encourage everyone you know to attend.
The Mayor has scheduled the public comment section of the meeting at approximately 8pm.
The general meeting starts at 7pm.
Village Resident Michele Lindsay Announces Her Candidacy For Town Board
Posted 7-16-15
Michele Lindsay
2 Eagle Mountain Road
Tuxedo Park, New York 10987
July 13, 2015
Dear Tuxedo Neighbors,
I am announcing my candidacy for Councilman of the Town of Tuxedo. Important decisions will be made by the Town Board that will have great impact on our community for years to come. I am motivated to ensure that those decisions will benefit all residents.

Since moving to Tuxedo Park in 1995, I have been actively involved in the community and have been in the forefront of efforts to protect our way of life from overdevelopment. I strongly believe that we can find a better solution for economic growth that is sustainable for the long-term.
Now, more than ever, is the time to move forward to promote economic growth that will benefit the Town. To that end, I am working on A Better Tuxedo, a community-wide committee that is collaborating with our Chamber of Commerce and the Orange County Citizens Foundation to establish Tuxedo as the Gateway to Orange County and our State Parks. We will encourage implementation of key components of the Update of the Comprehensive Plan that was adopted by the Town Board in 2011. I will work to secure County and State funding for projects and to ensure that the Local Development Corporation, funded by Tuxedo Farms, operates smoothly.
Mismanagement by the prior Town Board resulted in a $1 million deficit in our $10 million budget for Fiscal Year 2015. Supervisor Rost inherited this problem and secured monies from the casino applicant to temporarily bridge this shortfall. But we still need to restructure the budget to make up any ongoing deficits.
I will dedicate my education in Mathematics at Smith College and my experience as Vice President at JP Morgan to solving our fiscal problems. My years in the Municipal Bond Department are directly applicable to the needs of the Town Board: I evaluated the creditworthiness of municipal bond issuers as an analyst; and I worked with public finance bankers in my positions as a bond trader and salesperson. Previously I worked as a research analyst in Money Markets. My work on various non-profit boards over twenty-five years is also relevant to crisis management and problem-solving.
Tuxedo continues to be threatened by projects such as the Pilgrim Pipeline. I am actively involved in Target Tuxedo, an organization dedicated to informing residents about issues that will impact our environment. As a Board Member of Sterling Forest Partnership, I will be able to effectively use the resources that SFP has developed and to help coordinate the Town's response. To further protect Tuxedo from unwanted development, I believe that our zoning code needs to be reviewed and strengthened.
I support Tuxedo Farms as necessary for growth in Tuxedo but oversight of the development is critical. With tonight's appointment, two Town Board Members seeking reelection this November have spouses on the Town Planning Board. I feel that the appointee is well qualified. However, despite all good intentions, I do not believe that this situation encourages the best independent decision-making, when the Town needs it the most.
Development of a united Community is my passion. Connections among the neighborhoods of Tuxedo are challenged by distances, topography and two different school districts. I believe that the efforts of A Better Tuxedo will help build a community we can be proud of.
Please support my candidacy so that I may serve all residents on the Town Board. I will need your vote to win based on merit. I vow to pledge my time, skills and energy to work for you. Thank you for your time.
Sincerely,
Michele Lindsay
Pilgrim Pipeline Presentation July 9, 2015
Posted 7-14-15
This past Thursday, July 9, Audrey Friedrichsen Esq., Land Use and Environmental Advocate at Scenic Hudson, gave a presentation regarding the proposed Pilgrim Pipeline to the residents of Tuxedo at the invitation of the community-based action group Target Tuxedo. The proposed pipeline will carry highly volatile North Dakota Bakken oil from Albany to Linden, NJ and a part of the proposed route goes right through Tuxedo and Tuxedo Park. This was the first in a series of presentations that will be sponsored by Target Tuxedo.
Following a brief introduction, Ms. Friedrichsen provided an over view of the project as it currently stands.
Click here to view this presentation.
There followed a Question & Answer session. As it stands, details for the project have yet to be finalized, so the majority of these questions could not be answered definitively. Issues that were touched upon include:
Construction oversight and lack of Federal Involvement
Route concerns
Involved State Agencies
Type and volatility of the material to be transported
Probability of Intermediate pumping stations
General operating concerns, regulations and oversight
Opportunities for Municipal Oversight
Possibility of changing Zoning Codes
Types of potential disasters
Private Property concerns, Property Owners rights and eminent domain concerns
Possible legal resources
Recommended Next Steps
Target Tuxedo Presents "Introduction to the Proposed Pilgrim Pipeline" Thursday, July 9 at 7pm
Posted 6-29-15
Thursday - July 9th - 7PM
Introduction to the Proposed Pilgrim Pipeline
Audrey Friedrichsen Esq., Land Use and Environmental Advocate at Scenic Hudson, will present information about the Pilgrim Pipeline to the residents of Tuxedo and Tuxedo Park. The proposed pipeline will carry highly volatile North Dakota Bakken oil from Albany to Linden, NJ. Part of the proposed route goes through Tuxedo and Tuxedo Park. Target Tuxedo sponsors this speaker. *
St Mary's Episcopal Church
Fox Hill Road, Tuxedo Park
Thursday - July 9th - 7PM
Archived Village News
2012-2014
Click Here to View