VILLAGE GOVERNMENT

Join The Wee Wah Fishing Club!
The Wee Wah Fishing Club is now accepting applications for new members. Members use club boats to fish for trout, smallmouth and largemouth bass, yellow perch, walleye, catfish, and more on the quiet, stocked waters of beautiful Wee Wah Lake in Tuxedo Park.
Applicants must be residents of the Hamlet of Tuxedo or the Village of Tuxedo Park. Village employees and active members of the Tuxedo Ambulance Corp. and volunteer fire departments are also eligible. To apply, send a letter to Wee Wah Fishing Club; PO Box 158; Tuxedo, NY 10987. For more information, contact Jack Haubert at 915-3089 or jackhaubert@hotmail.com.
Village Board of Assessment To Meet March 15 For Executive Session
Click here to view the meeting notice.
2018 Tentative Village Assessment Roll Posted to the Village Website
The 2018 Tentative Village Assessment Roll has been posted on the Village Website. Click here to view.
Tuxedo Park To Be Featured on PBS in January 2018
Important Drinking Water Notice December 27,2017
Posted 12-27-17
BOIL YOUR WATER BEFORE USING
Bring tap water to a rolling boil, boil for one minute, and cool before using. Or use bottled water certified for sale by the New York State Department of Health. Boiled or bottled water should be used for drinking, making ice, washing dishes, brushing teeth, and preparing food until further notice.
This Boil Water Notice applies to Town of Tuxedo (Hamlet) North to Hickory Hollow Nursery
What Happened?
At about 10:00-PM on Wednesday, December 27, 2017 work will begin to replace a water valve in the system. This work may cause disruption in water service and/or a loss of water pressure. When water mains lose pressure it increases the chance that untreated water and harm l microbes can enter your water.
Harmful microbes in drinking water can cause diarrhea, cramps, nausea, headaches, or other symptoms and may pose a special health risk for infants, some elderly, and people with severely compromised immune systems. But these symptoms are not just caused by microbes in drinking water. you experience any of these symptoms and they persist, you should seek medical advice.
What is being done?
Replacement of the valve is necessary maintenance we must per on the system. We will work to replace the valve as quickly as possible. Beginning on 12/27/17 at 10:00 PM you must boil the water until further notice.
It is likely that you will need to boil water for the next few days until the problem is fixed and confirmation samples are collected to con the absence of bacteria. You will be informed when tests show that you no longer need to boil your water.
For more information, please contact:
Tuxedo Park Water Department at 845-351-2777 or the Orange County Department of Health at 845-291-2331.


Please share this information with other people who drink this water, especially anyone who may not get this notice directly or example, people in apartments, nursing homes, schools, and businesses.

IMPORTANT INFO ATION ABOUT BOUT YOUR DRINKING WATER.
The Village of Tuxedo Park Did Not Meet Treatment Requirements
Our water system recently violated a drinking water requirement. Although this situation is not an emergency, and does not require that you take immediate action, as our customers, you have a right to know what happened, what you should do, and what we are doing to correct this situation.
As part of our Disinfection By-Products Rule, we routinely monitor for removal of Total Organic Carbon (TOC) in our filters. The running annual average of test results ending in the month of September 2017 showed removal levels of TOC at .97 (a removal of 1.0 is required).
What does this mean?
This is not an emergency. If it had been an emergency, you would have been notified immediately. Total Organic Carbon OC) has no health effects. However TOC provides a medium for the formation of
disinfection byproducts. ese byproducts include Total Trihalomethanes (TTHMs) and Haloacetic acids ( 5s). Drin ng water containing these byproducts in excess of the Maximum Contaminant Level (MCL) m lead to adverse health effects, liver or kidney problems or nervous system effects, or m lead to an increased risk of getting cancer
Our water system also monitors for TTHMs and HAA5s. Our testing for TTHMs and HAA5s did not show the presence TTHMs and HAA5s that approached the standards for maximum Contaminant Levels.
What should I do?
There is nothing you need to do. You do not need to boil your water or take other corrective actions.
However, if you have specific health concerns, consult your doctor. .
If you have a severely compromised immune system, have an infant, are pregnant, or are elderly, you may be at increased risk and should seek advice om your health care providers.
What happened? What was done?
Compliance is based on a Running Annual Average. Although the average is below what is allowed, history has shown adequate TOC removal. We are reviewing our sampling procedures and evaluating our Filtration system for efficiency. We are continuing to monitor TTHMss and HAA5s.
For more information, please contact the Village of Tuxedo Park at 845-351-4745 or by mail at PO Box31, 80 Lorillard Road,,Tuxedo Park, NY 10987.

Please share this information with other people who drink this water, especially anyone who may not get this notice directly or example, people in apartments, nursing homes, schools, and businesses.
TPFYI Community Survey
Posted 12-28-17
De

ar Neighbor,

TPFYI has reached an important crossroads and we are looking to chart our course for the future, both in terms of economic viability as well as overall value within the community. If you would kindly take a moment to complete the following, short survey, we would greatly appreciate it.




Click HERE to take the Survey




Thank you in advance for your time.




Sincerely,

The Team at TPFYI
Please help me spread this news!
Important Water Notice
Posted 12/15/17
Click here to view notice
Village BZA Seeks Two New Members
The Village has two immediate openings on the BZA due to members both moving outside the Village and exceeding their term limits. Terms are 5-years. If you or anyone you know would like to give back to the community by serving on the BZA please contact Debbie Matthews at

(845) 351- 4745, Ext. 4

Thank you.

Board of Trustees
Tuxedo Park To Be Featured on PBS in January 2018
Wee Wah Dam Progress Depicted in Photo logs on Village Website
Posted 11-29-17
The Village has posted photo-logs depicting the progress on the Wee Wah Dam to their website.
Click here to check it out!
From The Mayor's Desk - Halloween In The Village
Posted 10-23-17
From the Mayor's Desk
Halloween in Tuxedo Park is one of our best traditions. The residents on Clubhouse Road, Tower Hill Road, and the surrounding area have hosted our trick or treaters for years. Halloween would not be possible without their generosity and commitment to the community.
This year, Halloween falls on a weekday which means that many of the children who have weekend homes will not experience our great tradition. Therefore, this year the Village will oversee two Halloweens – Saturday and Tuesday. Of course, some of our usual hosts will not be able to provide tricks or treats on both evenings. However, we have been told that there will be enough hosts participating each evening to make it fun for all.
The Village Police block off traffic to Clubhouse Road and keep our trick or treaters safe. They will do so Saturday and Tuesday. We have commitments from parents to kindly and gratefully cover 100% of the cost if there is overtime associated with adding this extra shift. If this experiment is successful it may become a tradition. We will leave that decision up to you and future Village Boards. There are several other fun Halloween events taking place Saturday in the Park and Town. Why not attend as many possible. I don't think your kids will mind filling up their candy bags to the brim! Thank you and have a great Tuxedo Park Halloween experience this year.
Mac
Please help me spread this news!
Tuxedo Lake Update
Posted 8-4-17
Based on Solitude Lake Management's Algae Bloom Analysis the Village will be treating the lake as soon as they receive DEC approval.
Tuxedo Lake Algae Bloom
Posted 8-2-17
From the Village website 8/1/17:
There is an algae bloom in the main lake. Samples taken yesterday have been sent to our lake manager Solitude Lake Management for analysis. We expect a report shortly detailing the steps necessary to remediate the algae bloom. This is typically done with copper sulfate disbursement into the lake. The algae bloom does not threaten the quality of drinking water now.
Wee Wah Dam Rehabilitation Project Report July 2017
Posted 8-2-17
Click Below to Read Full Report
SENATOR BONACIC VISITS TUXEDO PARK NATURE PRESERVE
Posted 10-26-16
(Middletown, NY)- State Senator John J. Bonacic (R/C/I) visited the Tuxedo Park Nature Preserve yesterday, where he received a tour and update on the progress being made. Restoration of nature preserve was a multi-year project funded entirely by private donations and government grants. When fully complete, the preserve will be an expansive meadow of colorful native flowers and grasses, surrounded by a healthy forest and featuring meandering footpaths that will offer all-season enjoyment and educational opportunities, and will be greatly beneficial to the ecological health of the Village.
Senator Bonacic tours the Tuxedo Park Nature Preserve with (L-R), Tuxedo Park Mayor Mary Jo Guinchard, and Tuxedo Park resident Chiu-Yin Hempel.
Race Track Nature Preserve Dedication Ceremony October 23, 2016
Posted 10-24-16
Sunday's Race Track Nature Preserve dedication ceremony was a lovely event, enjoyed by all who attended. Thank you to the Tree Advisory Board, the Deviners, the Tuxedo Park Garden Club, and the DPW for all of your hard work!
To learn more about this exciting, multi-year project, be sure to visit the Tree Advisory Board's website: http://www.tptreeboard.org/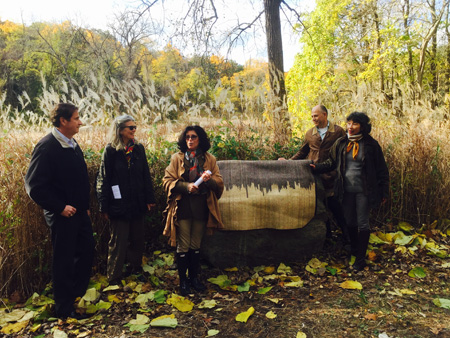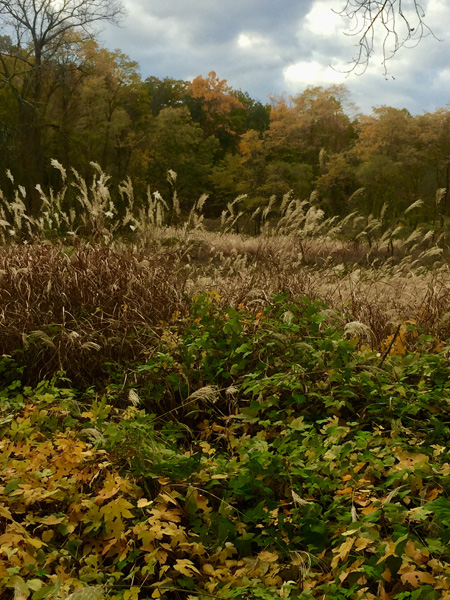 Thank You To The Tuxedo Park Garden Club
Posted 10/11/16
THANK YOU to the Tuxedo Park Garden Club for all of your efforts in making the community look beautiful this fall!
Boating Restrictions Tuxedo Reservoir
Posted 6-10-16
Click Here to view.
What's Happening At The Gate
Posted 6-3-16
On April 26, 2016 the Village Board of Trustees voted in favor of changing the qualifications of the gate guards so that the positions would be filled by armed law enforcement officers while simultaneously abolishing the position of Traffic Guard "as the Village has always known it" effective May 31.
Safety concerns seem to be the motivating factor behind this decision however, the Village also stands to save some money in salary and health insurance costs by making the change over to part-time officers.
On May 26 the Trustees held a special meeting for the purpose of considering extending the effective date for the abolition of Village Traffic Guard positions by up to 60 days. At the conclusion of this meeting, no such resolution was made.
As of June 1, the Village has not hired any new part-time officers to replace the Traffic Guards that they dismissed last month.
So who is manning the Gate you might ask???
The answer is……the one officer on duty.
Because this job requires the officer to remain in The Keep, there have been limited police patrols throughout the Village since June 1. Calls are either being forwarded to the Town of Tuxedo Police or response is delayed while the patrolling officer waits for reinforcement at The Gate.
Stay tuned to TPFYI for more information on this situation as it becomes available.
Village Surveys Residents Regarding Front Entrance
Posted 4-12-16
In your most recent mailing from the Village (this week) along with your water bill, you will find the survey pictured below, which concerns the future of the Front Gate. It is not easy to find….it is on top of the back-side of the Mayor's Newsletter and the print is small. It is CRUCIAL that as many residents as possible complete this survey and submit it to the Village. Currently, the thinking is that they will not be replacing the booth with a manned booth, but rather an empty one…while the guards will remain in the Keep as they are now. The reasoning behind this is safety and security. It is feared that if there were to be a shooting incident, a guard in the booth would not be able to adequately protect themselves from imminent danger.
Regardless of your view, please take the time to seek out this survey and complete it. The Board needs to have an accurate idea as to how the majority of residents feel before making these important decisions which truly go to the heart of this community.
WHAT'S UP WITH ALL THE ACORNS THIS YEAR?
Posted 10-19-15
Click here to read article
PILGRIM PIPELINE REP TO SPEAK AT MONDAY'S VILLAGE BOARD MEETING
Posted 9-28-15
At this Monday's Village meeting a consultant for Pilgrim Pipeline, John Cassellini , will be making a presentation during Public Comments.
It will be our first opportunity to hear from a representative of Pilgrim as to their plans for the pipeline and the potential impact to our Village and the Town.
We need to demonstrate our community resolve to not have the pipeline directly in our Village and Town. Please encourage everyone you know to attend.
The Mayor has scheduled the public comment section of the meeting at approximately 8pm.
The general meeting starts at 7pm.
Village Resident Michele Lindsay Announces Her Candidacy For Town Board
Posted 7-16-15
Michele Lindsay
2 Eagle Mountain Road
Tuxedo Park, New York 10987
July 13, 2015
Dear Tuxedo Neighbors,
I am announcing my candidacy for Councilman of the Town of Tuxedo. Important decisions will be made by the Town Board that will have great impact on our community for years to come. I am motivated to ensure that those decisions will benefit all residents.

Since moving to Tuxedo Park in 1995, I have been actively involved in the community and have been in the forefront of efforts to protect our way of life from overdevelopment. I strongly believe that we can find a better solution for economic growth that is sustainable for the long-term.
Now, more than ever, is the time to move forward to promote economic growth that will benefit the Town. To that end, I am working on A Better Tuxedo, a community-wide committee that is collaborating with our Chamber of Commerce and the Orange County Citizens Foundation to establish Tuxedo as the Gateway to Orange County and our State Parks. We will encourage implementation of key components of the Update of the Comprehensive Plan that was adopted by the Town Board in 2011. I will work to secure County and State funding for projects and to ensure that the Local Development Corporation, funded by Tuxedo Farms, operates smoothly.
Mismanagement by the prior Town Board resulted in a $1 million deficit in our $10 million budget for Fiscal Year 2015. Supervisor Rost inherited this problem and secured monies from the casino applicant to temporarily bridge this shortfall. But we still need to restructure the budget to make up any ongoing deficits.
I will dedicate my education in Mathematics at Smith College and my experience as Vice President at JP Morgan to solving our fiscal problems. My years in the Municipal Bond Department are directly applicable to the needs of the Town Board: I evaluated the creditworthiness of municipal bond issuers as an analyst; and I worked with public finance bankers in my positions as a bond trader and salesperson. Previously I worked as a research analyst in Money Markets. My work on various non-profit boards over twenty-five years is also relevant to crisis management and problem-solving.
Tuxedo continues to be threatened by projects such as the Pilgrim Pipeline. I am actively involved in Target Tuxedo, an organization dedicated to informing residents about issues that will impact our environment. As a Board Member of Sterling Forest Partnership, I will be able to effectively use the resources that SFP has developed and to help coordinate the Town's response. To further protect Tuxedo from unwanted development, I believe that our zoning code needs to be reviewed and strengthened.
I support Tuxedo Farms as necessary for growth in Tuxedo but oversight of the development is critical. With tonight's appointment, two Town Board Members seeking reelection this November have spouses on the Town Planning Board. I feel that the appointee is well qualified. However, despite all good intentions, I do not believe that this situation encourages the best independent decision-making, when the Town needs it the most.
Development of a united Community is my passion. Connections among the neighborhoods of Tuxedo are challenged by distances, topography and two different school districts. I believe that the efforts of A Better Tuxedo will help build a community we can be proud of.
Please support my candidacy so that I may serve all residents on the Town Board. I will need your vote to win based on merit. I vow to pledge my time, skills and energy to work for you. Thank you for your time.
Sincerely,
Michele Lindsay
Pilgrim Pipeline Presentation July 9, 2015
Posted 7-14-15
This past Thursday, July 9, Audrey Friedrichsen Esq., Land Use and Environmental Advocate at Scenic Hudson, gave a presentation regarding the proposed Pilgrim Pipeline to the residents of Tuxedo at the invitation of the community-based action group Target Tuxedo. The proposed pipeline will carry highly volatile North Dakota Bakken oil from Albany to Linden, NJ and a part of the proposed route goes right through Tuxedo and Tuxedo Park. This was the first in a series of presentations that will be sponsored by Target Tuxedo.
Following a brief introduction, Ms. Friedrichsen provided an over view of the project as it currently stands.
Click here to view this presentation.
There followed a Question & Answer session. As it stands, details for the project have yet to be finalized, so the majority of these questions could not be answered definitively. Issues that were touched upon include:
Construction oversight and lack of Federal Involvement
Route concerns
Involved State Agencies
Type and volatility of the material to be transported
Probability of Intermediate pumping stations
General operating concerns, regulations and oversight
Opportunities for Municipal Oversight
Possibility of changing Zoning Codes
Types of potential disasters
Private Property concerns, Property Owners rights and eminent domain concerns
Possible legal resources
Recommended Next Steps
Target Tuxedo Presents "Introduction to the Proposed Pilgrim Pipeline" Thursday, July 9 at 7pm
Posted 6-29-15
Thursday - July 9th - 7PM
Introduction to the Proposed Pilgrim Pipeline
Audrey Friedrichsen Esq., Land Use and Environmental Advocate at Scenic Hudson, will present information about the Pilgrim Pipeline to the residents of Tuxedo and Tuxedo Park. The proposed pipeline will carry highly volatile North Dakota Bakken oil from Albany to Linden, NJ. Part of the proposed route goes through Tuxedo and Tuxedo Park. Target Tuxedo sponsors this speaker. *
St Mary's Episcopal Church
Fox Hill Road, Tuxedo Park
Thursday - July 9th - 7PM
Archived Village News
2012-2014
Click Here to View